The Freestyle Libre 2 and Freestyle Libre 3 sensors from Abbott Diabetes Care help make diabetic blood glucose control simple. These stand-alone continuous glucose monitors (or CGMs) measure glucose levels in tissue fluids. Data from these CGMs is stored and sent to an accompanying app.
In this article, we've set out to uncover which, out of the two, is the best CGM, based on each device's features, performance, monthly cost, user experience, comfort & usability.
If you use a different glucose monitor brand or a blood glucose fingerstick system and want to try a CGM or if you're thinking about switching from Libre 2 to Libre 3, stick around to find out which Freestyle Libre glucose monitoring system is the best.
Freestyle Libre 2 vs Freestyle Libre 3
The Freestyle Libre 2 first made an appearance in the US in 2020. Just 2 years later, Freestyle Libre 3 appeared. Both are covered by Medicare, so are good choices for US CGM users.
If your insurer covers multiple CGMs for you or your child with type 1 diabetes, check out our other comparison posts. Gluroo posts detailed, honest insights on all types of glucose monitoring and drug delivery systems.
Features
Most CGMs work in the same way, but with subtle differences. However, sometimes, these differences aren't so subtle. This is the case with Libre 2 and 3 sensors.
Freestyle Libre 2
The Libre 2 (like the Libre 3) is a stand-alone CGM, meaning you don't need to calibrate it.
The Libre 2 sensor and transmitter combo should only be worn on the back of the arm from age 4 and up. Yes, it will work on other parts of the body but you won't get a faulty sensor replaced for free if you use an alternative site.
Weighing in at just 0.18oz, even a young child with type 1 diabetes will hardly know it's there. The circular device has a diameter of 1.38 inches and is 0.2 inches thick. The disposable Libre 2 applicator is included.
Each sensor lasts 14 days and requires a warm-up period of 60 minutes after application. To use both the reader and smartphone, you must carry out the very first scan with the reader. If you scan with your smartphone first, the reader won't work.
You can wear the Freestyle Libre 2 underwater to a depth of 3.2 feet for up to 30 minutes.
To scan results, hold your smartphone or Libre 2 reader to within 1.5 inches of the sensor. Make sure Near-Field Communication (NFC) is enabled when using a smartphone and install the Freestyle LibreLink or Libre 2 app (depending on where you live). Both apps are iOS and Android compatible.
You'll need to scan the sensor every 8 hours to get a complete, daily curve. To see numeric measurements and add carbs, insulin doses, exercise, and additional notes via the app, you might need to scan the sensor more regularly.
The Freestyle LibreLink and Libre 2 apps are well designed. You're not flooded with information all at once. Instead, you can access specific data via the menu. And it's easy to give your diabetes specialist permission to access your data via the app. Up to 20 family members, carers and/or friends can download the LibreLinkUp app to view your data, but only when given express permission.
The app's home screen gives an overview of time in range, the last available reading, and average glucose level for the past 24 hours. There's also a graph showing your daily curve with periods of low glucose colored in a distinctive red. You can also see when your sensor has to be replaced.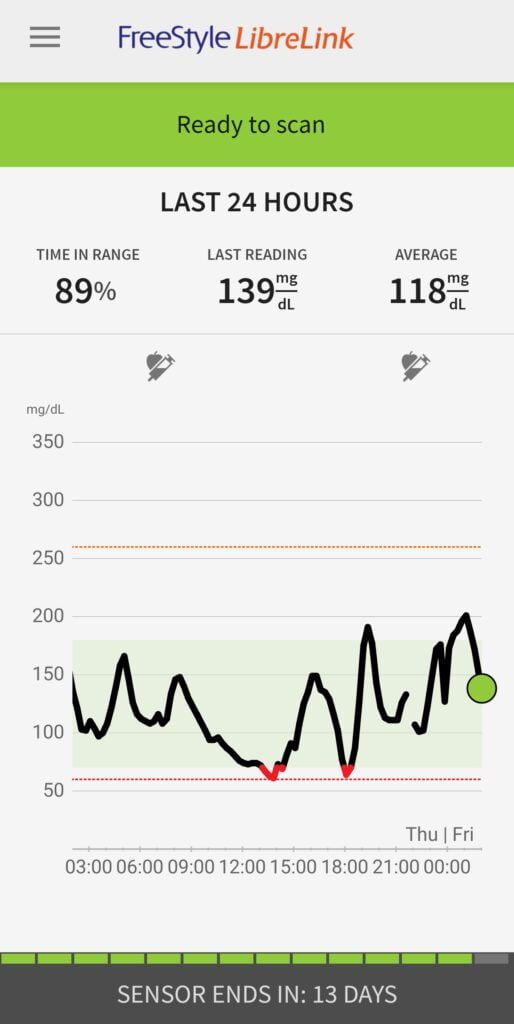 Go into the menu, and you'll find a logbook (see below) where you can add your notes, along with a list of single-click headings – these take you to more specific data pages like low glucose events, average glucose, estimated A1c, sensor usage, and time in range.
The LibreLink app allows you to set your own target ranges to a degree. High or low glucose alarms are adjustable, but these won't work unless Bluetooth is enabled and your smartphone's notifications are switched on. The lowest setting for an alarm is 60 mg/dL while the high reading alarms can be set between 120 and 400 mg/dL. 
Finally, although Freestyle Libre 2 sensors are compatible with NovoPen® 6 and NovoPen Echo® Plus, not all countries (including the United States) enjoy this integration. Even so, you might not have to wait too long. Abbott Diabetes Care is working on modifications for Insulet and Tandem integration for both Libre sensors.
Freestyle Libre 3
Those planned modifications tell us the latest sensor isn't (yet) AID device-ready, either. So why buy the Libre 3 CGM?
If you live in Austria, Germany, Italy, Netherlands, Switzerland, or the United Kingdom and use a myLife insulin pump, the Libre 3 is a great choice. Other countries will have to wait a little longer for any integration.
As for the Libre 3 app, there are no great changes. It has the same data groups and home screen information. Even so, you can't use a Libre 2 app with a Libre 3 sensor or vice versa.
Sensor warmup time is also 60 minutes. You can wear it under water to a depth of 3.2 feet for up to 30 minutes. So, no change there. The same goes for the 14-day lifespan. Even the applicator has the same design.
But there are big differences, too. These relate to size, transmission, and performance.
To date, the Freestyle Libre 3 sensor is the smallest stand-alone CGM on the market. It weighs just 0.035 ounces, has a diameter of 0.83 inches, and is only 0.11 inches thick.
There's also no reader available for the Libre 3 CGM, and its transmission distance has been drastically increased to 33 feet. You can pair the app to your smartphone once using NFC. Then enable Bluetooth to transmit diabetes data throughout the day straight to your phone. There's no need to scan – period. For forgetful or busy kids (and adults), this is a great move.
Performance
Freestyle Libre 2
One reason Abbott Diabetes Care introduced the Libre 3 was to improve sensor accuracy. Studies show the earlier FreeStyle Libre 2 system has a combined mean absolute relative difference (MARD) of 9.3% (9.2% for adults and 9.7% for pediatrics).
MARD is the difference between laboratory blood glucose measurements and results given by your CGM. If, for example, your (adult) laboratory result is 100 mg/dL, you would expect a Libre 2 sensor to give a reading of between 90.8 and 109.2 mg/dL.
But users often disagree, especially when glucose levels are low. Some Libre 2 users report differences of over 20%. We don't live in laboratories, after all.
It's highly likely you'll have to contact Abbott customer services more than once to report a faulty sensor. That said, these services are easy to get a hold of. Make sure you keep the foil applicator cap showing the sensor serial number. Check the events menu on your Libre app for specific dates, times, and error codes.
Freestyle Libre 3
Is Libre 3 performance an improvement on Libre 2? On paper, definitely. The MARD% is just 7.6% – "the first CGM to demonstrate a sub-8% value". With a laboratory test reading of 100 mg/dL, you should expect your Libre 3 to report a value between 92.4 and 107.6 mg/dL. This small difference means a lot to your diabetes specialist.
But do Libre 3 users have a different accuracy experience? Yes, they do. Inaccurate results are more likely to occur when capillary blood glucose readings are between 90 and 220 mg/dL. Again, the difference might be as high as 20%.
But blood glucose and interstitial glucose readings are not the same. It can take up to 30 minutes for glucose to reach the tissues from the bloodstream, so a 'lag' is to be expected. But when your Libre 3 says you're having a hypo and your fingerstick test says you're fine, this detail isn't very comforting.
However, no CGM on the market currently gives 100% reliable results so it's not yet time to throw away your fingerstick device.
Price & Monthly Cost
This is a short section – you only need 1 product. All Freestyle Libre apps are free. Libre 2 readers are available for around $100 but, thanks to smartphone compatibility, unnecessary.
According to Walgreens, most commercially insured type 1 diabetics pay between $0 to $75 per month for FreeStyle Libre sensors.
Prices listed below are over-the-counter costs. You don't need a prescription to buy a CGM unless you claim insurance on it. If you have a high deductible healthcare plan (HDHP), over the counter could be best.
If you have no health insurance and are on a low income, you can check eligibility criteria for the Abbott Diabetes Patient Assistance Program (US only).
Freestyle Libre 2
In the US, a Freestyle Libre 2 pack of 2 sensors (28 days) costs around $170.
Freestyle Libre 3
Surprisingly, the Freestyle Libre 3 is a little cheaper.
A Freestyle Libre 3 pack of 2 sensors (28 days) costs around $150.
Usability, Popularity & User Experience
Freestyle Libre 2
Libre 2 users are, overall, happy. When they're not, Abbott customer care services and rapid sensor replacement makes reviews a little less harsh.
Because this is a larger, thicker sensor than the Libre 3, it runs the risk of getting knocked off more easily. Even pulling off a tight sweater can peel the sensor from the skin. The trick is to apply the sensor slightly under the arm. If you perspire easily, opt for an overlay patch. And be careful pulling off that sweater!
Libre 2's claims to accuracy are often questioned by users. If you find that a sensor often gives very different readings to a fingerstick test, contact Abbott customer services. Chances are high they'll send a free replacement.
Libre 2 app feedback is very positive. Check your phone's compatibility and ensure it's had the latest software update. The Libre 2 system is highly recommended for kids with type 1 diabetes (or type 2), as the information on the app is so easy to read.
Freestyle Libre 3
There are more complaints about the low glucose alarm by Libre 3 users than Libre 2 users. Some even turn the app off at night. Unfortunately, real-life accuracy (as opposed to laboratory-based accuracy) is far from perfect with any CGM. This technology is still relatively new, after all.
People who take large daily doses (1 gram or more) of vitamin C are likely to see raised values with Freestyle Libre CGMs. Other CGM brands, like Medtronic, use different chemical reactions to measure glucose levels. Medtronic sensors show abnormal glucose values in combination with acetaminophen (paracetamol).
In other words, we don't know all the factors that affect the accuracy of continuous glucose monitors yet.
By far, the most positive Libre 3 reviews have to do with the tiny sensor size and the no-scan feature. Because the sensor is so thin there is a lower risk of knocking it off accidentally. However, the smaller diameter means less adhesive power. You can use an overlay or armband to improve sticking power, though.
Not having to remember to scan and letting Bluetooth do the work is, for most, a massive improvement. In fact, this is the main reason users switch from Libre 2 to Libre 3. Bluetooth connectivity works well and if there's a connectivity problem, this might be your smartphone's fault. The Libre 3 app is also praised for ease of use which isn't surprising given that it's very similar to the Libre 2 app.
Final Comparison
Here's a quick overview of the points mentioned above. 
Freestyle Libre 2
Freestyle Libre 3
Sensor dimensions (inches)
1.38 diameter x 0.2 (35 mm diameter × 4.6 mm)
0.83 x 0.11 (21 x 21 x 2.9 mm)
Weight (ounces)
0.18
0.035
Waterproof
Shower and bath safe
30 minutes at 3.2 feet
Shower and bath safe
30 minutes at 3.2 feet
Minimum age
4
4
Accuracy (MARD%) adult
9.2
7.6
Accuracy (MARD%) child
9.7
8.7
Warm up time
60 minutes
60 minutes
Wear time
14 days
14 days
Number of transmissions (per hour)
4
60
Transmission range (feet)
0.125
33
Need to scan sensor?
Yes
No
Customizable alarms
Yes
Yes
Current sensor integrations
NovoPen® 6 and NovoPen Echo® Plus (Europe)
mylife™ Loop automated insulin delivery system (Europe)
Sensor memory when out of range
8 hours
14 days
Compatibility
LibreLink app, Libre 2 app
LibreLink app, Libre 3 app
Pairs with:
Specified Android and iOS devices
Specified Android and iOS devices
Data sharing?
Up to 20 people
Up to 20 people
Warranty
Not covered, but replaced when faulty
Not covered, but replaced when faulty
Average monthly cost (sensors only) without CGM insurance cover
$170 (28 days)
$150 (28 days)
Final Thoughts
So, which CGM is Best? Libre 2 or Libre 3?
To be honest, either is a good choice. Not only are Abbott CGMs cheap in comparison to many other brands (and covered by most T1D health insurance), but they also make glucose control easy.
If you're worried about accuracy, use a fingerstick device 15 minutes before comparing your Libre result. If values are (and remain) very different, get in contact with Abbott Diabetes Care.
But even with accuracy glitches, Freestyle Libre (FSL) sensor use lowers HbA1c levels. In fact, it does more than that. Recent results from a long-running UK study following over 8,000 adults with type 1 diabetes reported, "in people with T1D, FSL use resulted in a sustained improvement in HbA1c, hypoglycemia awareness and diabetes-related distress for over two years."
That's 3 good reasons for using Libre 2 or Libre 3 continuous glucose monitors for your T1D journey!