If your child has type 1 diabetes, it can be scary to send them away to summer camp, even if it's just for a few days.
And whether they're going to a diabetic or non-diabetic summer camp, there's always the fear that they won't be able to fully manage their condition on their own, or that they'll get too caught up in the fun and activities and forget to attend to their needs as a type 1 diabetic.
The great thing about summer camp is that it provides your child with the perfect opportunity to handle themselves when they're away from you. It may even help them learn a lot about their condition precisely because you're not around to help.
Even so, it's only natural to worry. We want to help you get some peace of mind and give you a way to still stay on top of your child's levels while they're away.
How Can You Keep Track from a Distance?
It's important to give your child some space to be a child and enjoy this time to make new connections and have fun. Having some time away from you may also help instill some responsibility in your child and help them gain confidence in their capacity to manage their condition.
Even so, as a parent, it's natural that you'll want to find a way to stay on top of your child's BGL levels, meals, and bolus doses so you can help if needed, even from a distance.
That's where Gluroo comes in.
Gluroo is a 100% free app built by and for families with type 1 diabetes. It's a collaborative diabetes management app that connects caretakers and helps them better collaborate in managing a child's diabetes, wherever they're located.
Here's how Gluroo can help you keep track of your child's diabetes from a distance.
1. Stay on Top of BGL & Insulin Therapy
Gluroo offers CGM and insulin pump integrations so you can check your child's BGL in real-time, anywhere you are.
Currently, the app integrates with pumps like Omnipod Dash, Omnipod 5, and DIY Loop. For CGMs, Gluroo supports the Dexcom G5, G6, and G7, and the Freestyle Libre 1, 2 and 3. More integrations are planned and on the way.
With CGM data and meal logging, Gluroo can create summary statistics that let you know at a glance how your child is doing. The screenshot below shows things like GMI (a metric similar to HbA1C), Time in Range, average blood glucose, bolus insulin, total carbs, and more!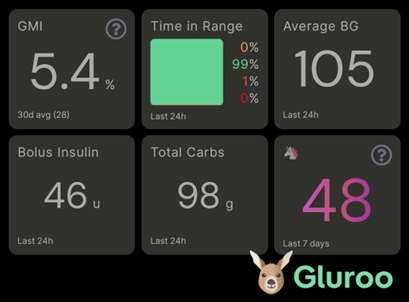 2. Keep Track of Meals & Snacks
If you're worried about making sure that your child is bolusing for their meals at summer camp, you can use Gluroo to check the meal log as your kid is adding data to it.
You can use Gluroo to chat with your child, and our intelligent algorithm will pick up carbs, insulin doses, and other relevant info from the conversation you have in the chat and log those values for you.
When your child is away, you'll be able to know at a glance that everything is going smoothly. If you notice things are not going smoothly (a missed bolus, a low event that isn't treated, etc.), you can at-reference ("@") your child and get their attention.
In the above screenshot, you can see an instance of this where the child has low blood sugar. They are able to correct it themselves by eating a starburst candy. Their mom sees all of this and gives the thumbs up – no parental intervention needed, just positive feedback!
By using Gluroo as a meal log you can also count on historic data. You can browse through your child's log history and see how they've coped with a particular food in the past if you're worried about something they ate.
3. Get Important Alerts Only When Necessary
Gluroo's smart alert feature is great for families because it offers scalable alerts.
The app sends out an alert to the PWD first, giving them a chance to solve the problem. Only if nothing is done about it does this alert escalate to the person next in line, most likely you or another parent.
This way, if necessary, you'll know if something happens, but your child is given a chance to fix it on their own first, which helps instill some responsibility in them.
Plus, all of Gluroo's alerts are actionable, so you'll never have to worry about the app blowing up your phone with all kinds of alerts.
Why Gluroo is The Right Choice for Families Dealing with T1D
Gluroo was built with families in mind. Our founder, Greg Badros, created this app after his son was diagnosed with type 1 diabetes at 8 years old. This was so that Greg, his wife, and their son could manage his diabetes as a family.
Gluroo's goal is to make this difficult condition a little bit easier to manage daily, especially for parents of kids with diabetes. That's why its focus is on collaboration and the creation of the GluCrew, your group of caretakers in the app.
We also know that every diabetes device comes with its own app or monitor, and aside from that you're probably using some form of logging to keep track of meals and other important information. This can add up, and having your data spread out across different apps, paper, and/or digital logs can be confusing and inefficient.
We wanted to build an app that streamlined diabetes management by replacing all other apps and monitors. One app that you can go to for all the information you need regarding your child's diabetes.
That's why Gluroo integrates with diabetes devices to work as a 2nd screen for insulin pumps and CGMs. That's why it offers meals, exercise, and insulin logging, the option to search your child's historic data, and so much more. With all its features, Gluroo is the only app you'll need to manage your child's diabetes.
Diabetes is hard, but our hope is that, with Gluroo, you can get some peace of mind when your child is away from you.
Final Thoughts
It can be scary to send your child to summer camp or anywhere else. But this is a part of growing up, so the best you can do is use the tools you have available to you to try to deal with the situation in the best way possible both for you and your child.
Gluroo can be one of those tools. And if you have any questions on how to get the best out of Gluroo for your family, don't hesitate to reach out to our team. We're always here to help.
If you'd like to download Gluroo for free, you can do so using the links below. The app is available for both iOS and Android.