Gluroo is the One and Only Way to see Live Real-time Insulin Delivery on the Omnipod 5 Patch Pump
(Gluroo is not affiliated with Omnipod nor Insulet)
The first collaborative diabetes logger
Gather your GluCrew to work together as a team. Together you'll worry less and live life more.
Faster logging.
Smarter notifications.
With Gluroo, you're never alone.
Gluroo helps streamline your diabetes:
The first diabetes logger built for your GluCrew
Diabetes is hard… especially for the person with diabetes… but it is challenging for others, too.
With Gluroo, you set up your Glucrew — the team of folks working together to keep you or your loved one healthy — and everyone uses their own device to stay connected whether you're in the same room or spread across the globe…

Instantly!
Comprehensive logging
Tracking meals, snacks, exercise, and insulin helps but takes too long.
Paper logs are easy, but they aren't always there when you need them and make it hard to learn from your experience.
Gluroo gives you crazy-fast ways to do all of your logging.
Not just of food, insulin, and exercise, but of whatever you choose to track: opening a new insulin vial or pen, where you place a pod, or starting a new sensor.
And if that sensor doesn't last as long as it should, Gluroo reports the failure to the manufacturer…
So your GluCrew can enjoy life more and think about diabetes less!
Fewer, smarter notifications
If you use a CGM, high and low blood sugar alerts are often helpful, but they can also be distracting and even overwhelming — especially if you're not around to help.
In Gluroo, we built an entirely new approach to managing alerts.
Our coordinated notifications mean exactly the right set of people get alerted, and you can address most alerts without even opening the app.
Save time, worry less, focus more.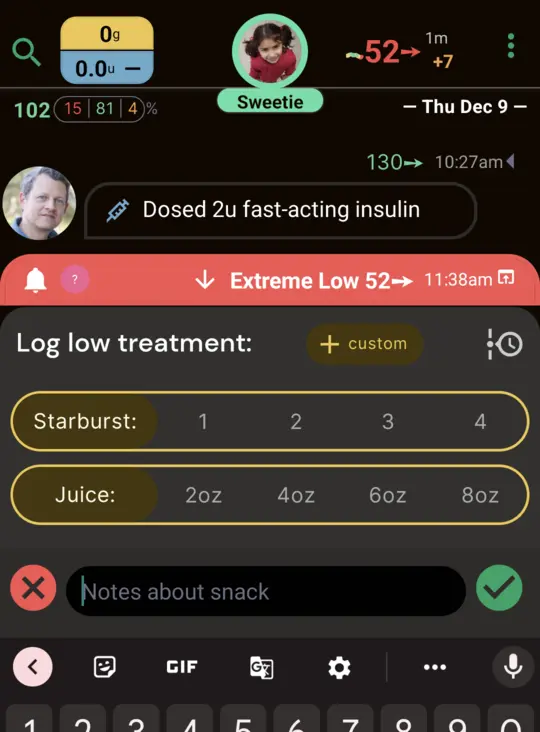 Caution: Always use your manufacturer-supplied CGM primary display and its alerting in addition to Gluroo.
Gluroo is not allowed to be used without access to the primary display,
Gluroo does not provide medical advice, and Gluroo cannot be used for medical or dosing decisions.
Search your GEL History
Faster, better logging means you can learn from your Gluroo Event Log of prior doses, meals, exercise and anything you've logged.
Look back at how you handled a tricky sushi lunch, expand an inline chart, and get better at managing those situations that might have caused trouble before.
Make the most of all your past experience with Gluroo!
Caution: Dosing decisions should not be made based on this device. The user should follow instructions on the continuous glucose monitoring system
Caution: This device is not intended to replace self-monitoring practices as advised by a physician.
GLUROO IS NOT YET COMMERCIALLY AVAILABLE AND HAS NEITHER BEEN REVIEWED NOR APPROVED BY THE FDA
Interested to learn lots more?
Watch our long-form Videos