Some users of the Dexcom G6 Continuous Glucose Monitor (CGM) are seeing a worrisome notification in the app that says their phone will no longer be supported as of January 14, 2023. This article explains what you can do to avoid having to buy a new phone to keep using your CGM.
What's Going On?
A few weeks ago, I received a notification in the G6 app. It said:
"Dexcom is removing access to some phones. The phone you're using will no longer be available for use with the G6 app as of January 14, 2023.
Please switch to a compatible phone listed at www.dexcom.com/compatibility, or to a Dexcom receiver for the best CGM experience."
For some reason, Dexcom is limiting the number of phones that can be used with their G6 app. As of January 14, 2023, they will only allow some devices from the following manufacturers of Android phones:
Samsung
LG
Google
Motorola
Huawei
Android Wear Watches
I use a OnePlus 7T smartphone, which is not included in Dexcom's short list. My options are to either buy a new phone that is listed in the compatible devices, or find another way to (unofficially) run the Dexcom G6 app on my phone.
Luckily, there are a ton of smart people in the diabetes space who have fixed this problem for us entirely.
The Solution – How to Use the G6 App With Most Android Phones
There's a great project called Build Your Own Dexcom (BYOD) by reddit user /u/shabado8 that lets you create your own version of the G6 app that will work with most android phones. As a bonus, it can also let you choose custom settings. For example, you can make it so that swiping the notification will dismiss a low or high alert, rather than having to fully open the app to acknowledge it.
You should check out the project and read the description to make sure you fully understand what's going on. Nonetheless, I've included some steps of my own that you can follow to get this installed and working on your phone:
1. Navigate to the Reddit thread about Build Your Own Dexcom App.
2. Fill out the Google Form survey, then look for an email with the custom APK.
3. Uninstall the old G6 app from your phone (you can do this in the middle of a sensor life with no issues). Make sure you have your transmitter serial number and sensor code if you want to re-pair a sensor that you are currently wearing. Gluroo is great for this, as it keeps track of your sensor and transmitter info when you start them (see below).
4. Install the APK from the email that you received.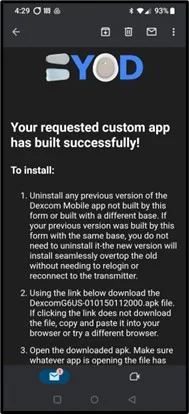 5. Log in to Dexcom as normal.
6. Enter your transmitter serial number and sensor code. Wait a few minutes and the new app should pair to your transmitter correctly.
7. Remember to turn back on Sharing, if you use that.
Final Thoughts
If your Android phone is no longer compatible with the Dexcom G6 app, don't worry. This unofficial build created by reddit user /u/shabado8 will let you keep using your current phone after January 14, 2023. I've been using it myself for a few days now with no issues.
Don't forget to check out Gluroo for free today – it's a collaborative diabetes management tool that works like a chat app, and pairs great with the Dexcom G6. Worry less, live life more!