Having blood glucose (BGL) levels on hand at all times, whether the numbers are your own or from someone you love, is an important tool for improving your blood sugar levels. Although you can always pull out your phone and check your Continuous Glucose Monitor (CGM) readings in Gluroo or in your first-party CGM app (Dexcom G6, etc.), it's nice to be able to simply glance down at your watch and not interrupt whatever else you're doing.
In this article, we're going to discuss how you can use Gluroo to see your blood sugar readings on your smartwatch. The watches we cover here are:
Apple watches
Google Pixel watches
Samsung watches
Garmin watches (and other Garmin devices)
Calendar Integration
The first and easiest way to see blood glucose information on nearly every smartwatch is to use Gluroo's built in calendar integration. Navigate to the "Data" tab and enable the calendar sync by pressing "Create calendar named Gluroo". It should look something like this: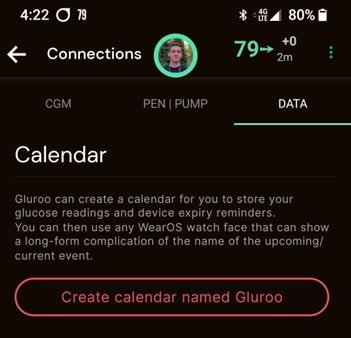 You'll then have a new Google calendar account on your phone. That account will get updated every few minutes with a new event that is your most recent blood glucose levels. With any smartwatch that can natively read calendar events, you'll now have up to date BGL values with a few quick taps. Here's what it looks like on my Garmin Instinct 2S:
For more in-depth discussion of the calendar integration including how to set it up on iOS vs. Android, check out our guide: Gluroo Calendar Integration.
Gluroo as a Nightscout-Compatible Backend
Many of the following methods rely on using Gluroo as a Nightscout backend, so let's cover what exactly that means.
Gluroo can imitate a Nightscout service without you actually having to run your own Nightscout server. This is useful because it means that you no longer need to host a Nightscout server on your own hardware, or pay a fee to have one hosted elsewhere – Gluroo does it all for free.
This functionality unlocks the ability to use a TON of other helpful diabetes tools – things like xDrip, Nightwatch, and more. Some smartwatch apps that show blood glucose levels, for example Garmin's user-developed apps, allow you to use a Nightscout URL and API secret as a data source. In this way, you can use Gluroo to imitate a Nightscout service and get CGM data to your smartwatch!
Smartwatch Integrations
Now that that's out of the way, let's see about some common smartwatch integrations.
Apple Watch
Apple watch users can download Nightguard. This app runs on the watch itself and pulls data from a Nightscout backend. Again, as in the picture above, you can simply copy and paste the Nightscout URL and API secret into the Nightguard settings – no need to set up an actual Nightscout instance. NOTE that for Nightguard in particular, you need to tap the button "Other formats for various apps" (see below!), then copy the Nightguard link. (This is just the same information in a slightly different format, but if you don't use this formatted link and instead use the Nightscout URL, it won't work.)
Google Pixel Watches
For watches with the Wear OS operating system, there's a guide on installing xDrip+ that you can find here. Once you get xDrip+ up and running on your watch, you can configure it to pull data directly from Gluroo via the Nightscout URL (like in the screenshot above). This link from the Nightscout Github project will show you what that looks like in the app (image below). Note that you will need to format the Nightscout URL and API secret in the proper syntax that is highlighted in the previous link.
Samsung Watches
One option for Samsung watches is to use this app: G-Watch App. Download it and configure it to use a Nightscout instance as your data source. Then, copy and paste the info from Gluroo into the app where it asks for a Nightscout URL and API Secret (or password/key).
Garmin Watches (and other Garmin devices)
Most garmin devices have the ability to download apps from the Garmin IQ store. From there, you can search for apps that you can download to your specific device. In my case, I use a Garmin Instinct 2 Solar. I then searched for "Nightscout" and found a number of apps that allow Nightscout as a data source.
The one in the picture above is called "xDrip+/Spike/Nightscout Datafield". The screenshot to the rightis from the settings menu of that app. I simply copy and pasted the Nightscout URL and API Secret into the Nightscout Datafield app settings, sync'd my Garmin watch, and edited an activity to include this new datafield. It's that easy!
Final Thoughts
Having access to your blood glucose levels at all times is a great way to stay on top of your diabetes. Being able to check your BGL by simply looking at your watch is super convenient.
Gluroo provides a useful service that can let you do this with many smart watches. You can learn more about Gluroo here on our website or download it today for free!